Mistral Bonsai launches its new responsive website
Mistral Bonsai 03/08/2016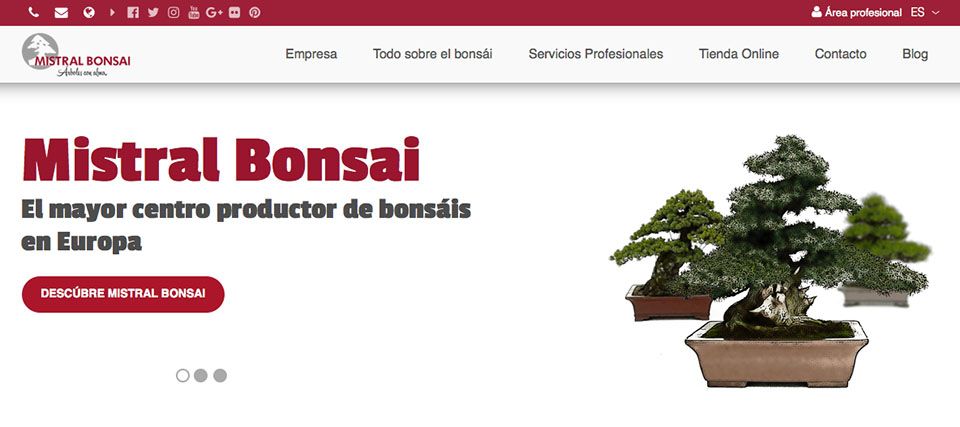 The day finally arrived! Mistral Bonsai launches its new responsive website. We introduce you with a new design for a more visual and more intuitive web with renewed content and special promotions.
In this very special year for us, because we have just celebrated our 30 years as a specialist in the bonsai area, Mistral Bonsai launches its new responsive website, navigable from all kinds of devices (computers, phones and tablets), so you can easily connect anywhere.
Our main objective is to provide a web space for both professionals and enthusiasts so they may be able to find everything they need in one click: technical specifications, basic care, shop online, digital magazines, professional services, workshops and courses… All this and more at www.mistralbonsai.com!
The news


On the new Mistral Bonsai site, we have updated and renovated graphics and audio-visual content to facilitate access to the relevant information. Now on the home page, you have directly our contact information (telephone, email and location), social networks where we are and a drop down menu. In the same page you have direct access to our online bonsai store (over 1,500 products), to the high quality of Ryuga tools to work the bonsai and information about Mistral Bonsai, the biggest bonsai production centre in Europe. We also present our "a tree, a soul" and articles "All about bonsai", our exposure, Professional Services, the company and the latest news published on our website, also accessible from the menu.
But the web that we present today is just the first phase of a project that will end after two more phases. In the second phase, we will develop the area for professionals, where you can enjoy discounts, special offers, useful information, new customers … And also activate versions in French and English. Finally, in the third phase, we will completely renew the design of our online store so that you may more easily find one of our 1500 products for the care of bonsai. So stay tuned in the coming months!
The sections
With this new responsive website, we wanted an easy and quick access to all our content into six sections: Company, All about bonsai, Professional Services, Online store, Contact & Blog.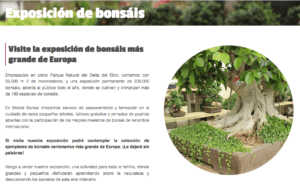 Thus, in the Company section you will have access to sections About Mistral Bonsai and Our exhibition, where you can know us a little better, you'll know our commitment to the environment, the values that define us (the quality, innovation, efficiency, training, variety, specialization, tradition), where our company is located, the address and hours of our offices, our exhibition and our shop. In addition to a small section with tourist information to know where to sleep nearby and tourism activities in the region.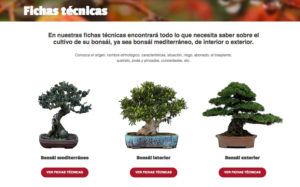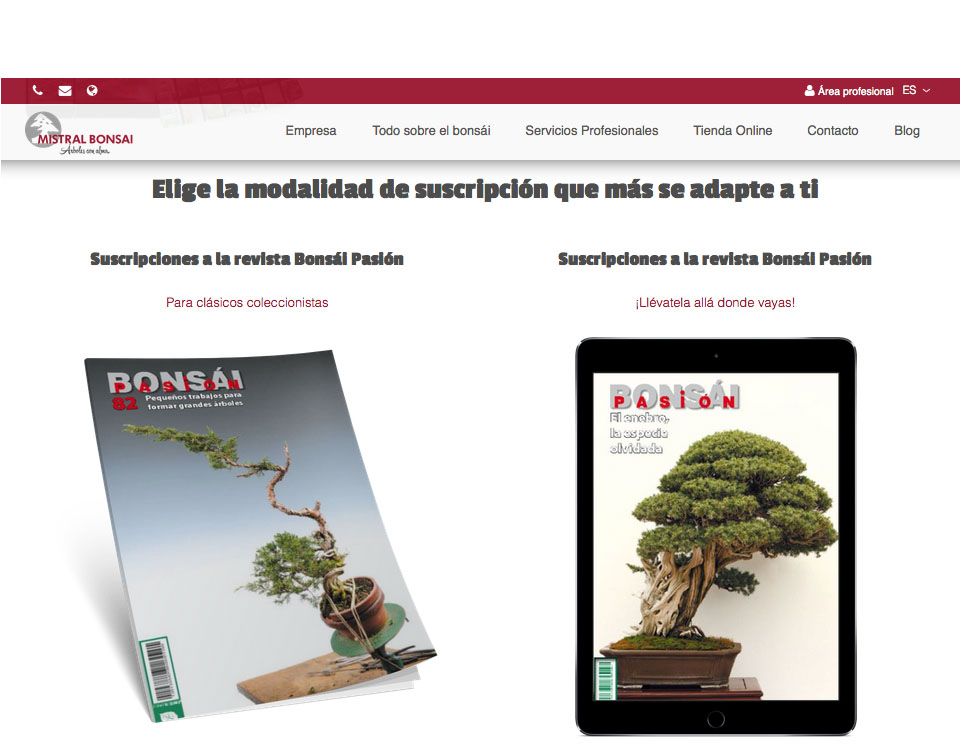 In the section All on bonsai, you will find everything you need for the care of these small trees, whether indoor or outdoor, Mediterranean, Oriental or even pre bonsai. You can view the technical specifications of different types of bonsai, basic care (putting the fertilizer, shaping, transplant, where to place it …), irrigation (watering stuff for bonsai), workshops and courses, or subscribe to Bonsai Passion to review the world of bonsai in the format you prefer: paper or digital.
Although the Professional sections and online store are under development and redesign (as shown above) users continue to have access to the same pages in the old web of Mistral Bonsai for any management. By the time the new version of these two sections are active, we will definitely inform you.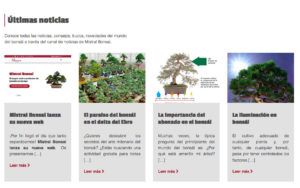 In the Contact section a form will appear so that you are able to send questions or suggestions by email.
And in the Blog section, you can read the latest news in the world of bonsai. Tips, tricks, news and items of interest so which you will always be informed about through the news channel Mistral Bonsai.
Take a look at www.mistralbonsai.com Hope you like it!
Share it!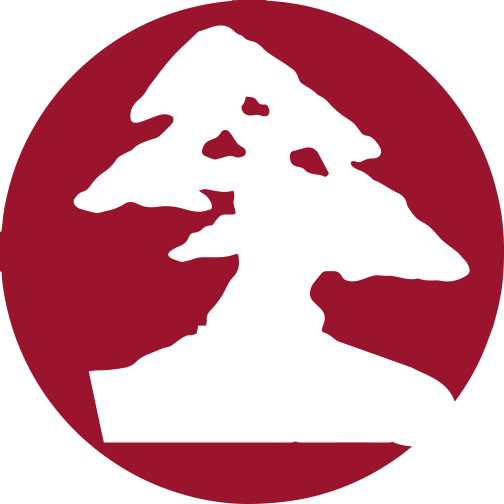 About the Author
Mistral Bonsai
In Mistral Bonsai we are a communication team, technicians and masters committed from the first day to disseminating the wonderful art of bonsai. A world that offers many things to share. We believe that a bonsai is a tree with a soul, unique and unrepeatable. Another of our most essential pillars is, how could it be otherwise, our close commitment to the preservation of the environment and nature.